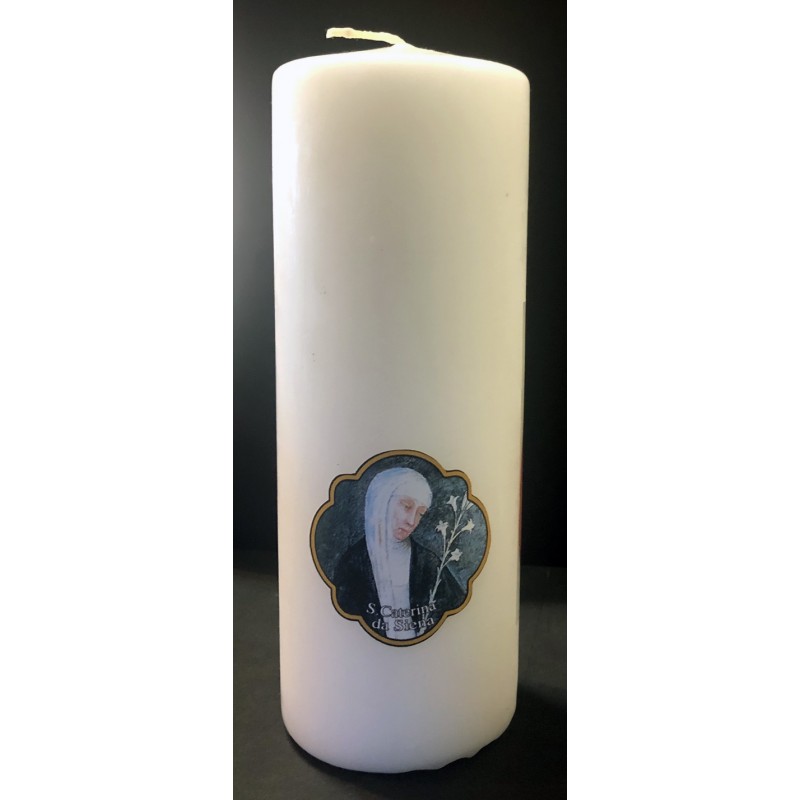  
Large candle Saint Catherine of Siena and Dominican symbol Size: 7 x 7 x 20 cm
Size: 7 x 7 x 20 cm
They burn inside without leaking zero smoke 
Designed and produced in Italy in our factory since 1908
Certified raw materials pure cotton wick
Duration: 72 h
Unscented, suitable for any situation
Security policy (edit with Customer reassurance module)

Delivery policy (edit with Customer reassurance module)

Return policy (edit with Customer reassurance module)
An Italian story since 1908
Cereria Di Giorgio was founded in 1908 in the heart of Rome, in Trastevere, by Giuseppe Di Giorgio. Over time, the Cereria was transformed and, from an artisanal production for liturgical purposes, in the 1960s, an industrial center was created in Pomezia, a few kilometers from Rome.
From the nineties to today, machines for candles have been installed capable of producing 8,000 pieces per hour, for coloring and polishing candles and for making tealights, up to 50,000 pieces per hour.
The frontier for the Di Giorgio family, now in its fourth generation, is the constant commitment to making quality candles in the
respect for the environment.
Quality means careful choice of the paraffins used, the use of lead-free cottons, the use of selected dyes and perfumes and control of production procedures.